Volunteers Week – Day 6: Meet Pat, one of NAWT Cornwall's longest running volunteers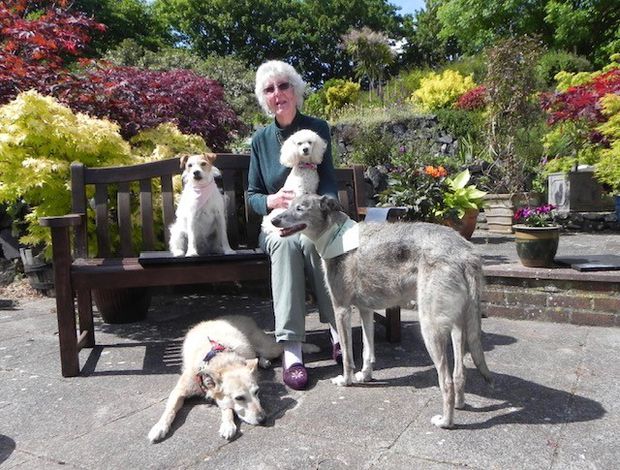 We are slowly reaching the end of Volunteers' Week 2023, so we thought it was the perfect time to share this wonderful story with you.
This week we have been talking about all things volunteering, as well as sharing some of our volunteers' stories to give you an insight into what it's like to be a part of NAWT. Not only this, but we have also been saying one big thank you to all our volunteers for all their hard work, as we wouldn't be able to do what we do without them.
One person who knows us inside and out, is Pat Lawrance, who has been volunteering at our NAWT Cornwall centre for over 20 years! Pat became a home checker around 26 years ago after rescuing her first dog from NAWT. She did this for many years, before becoming more involved with our events and fetes etc.
Pat took the time to chat to us, to tell us a bit more about her role in detail.
"I started my volunteer journey as a home checker, but some years later when I purchased an embroidery sewing machine, I asked if there were any projects where the trust would like me to make anything for them to sell.
It started with my very first fete offering personalised reversible bandanas to order. They proved to be very popular and that's when my sewing journey for the NAWT really began about 10 years ago.
I loved sourcing new project ideas for items to make to sell at subsequent fetes (and anywhere else I could sell them) raising money for the animals. My stall expanded over time after making many and varied items.
My helper, Dorothy and I have made many friends along the way. We are always pleased to see our regulars return looking for anything new we have made, and hopefully to buy them. Dorothy and I enjoyed our stall so much we quietly named it 'Our Happy Corner'.
Being hopeless at baking, I wondered what else I could make to contribute to the catering side of things and came up with the idea of my own coleslaw to sell on the food stall. I think it went down well as there never seemed to be much left at the end of the fetes!
Then Covid struck and there were no more fetes to look forward to. I then came up with an idea to make, maybe around 10 face masks to sell on the NAWT Facebook page. Well, silly me! I didn't realise the power of Facebook did I! When over 90 order requests came in, I panicked as with lockdown restrictions in force it was ALL down to me as I couldn't ask for help from anyone, as I was on my lonesome. My sewing machine took a right pounding as I kept 'at it' to meet the order deadlines. I ended up making over 300+ face masks which brought in some very much needed funds for the NAWT, and the animals in their care.
The social side of meeting other people and getting to know regular visitors is a great pleasure and is very rewarding, also knowing that what I do benefits the animals in the care of the NAWT, and THAT makes it all worthwhile."
Thank you so much, Pat, for taking the time to write this piece for us, it's very interesting to hear what you have been getting up to over the past 26 years! Thank you for everything you have done for us, we really do appreciate it, you have brought so much joy to our centre and our supporters over the years, and hopefully for many more to years to come!
If you would be interested in getting involved with helping at events, or maybe you might like to make something unique for our centres to sell, then make sure to get in touch with your local centre. You can find all the details here.