Volunteers Week - Day 1: Meet Irene and Maggie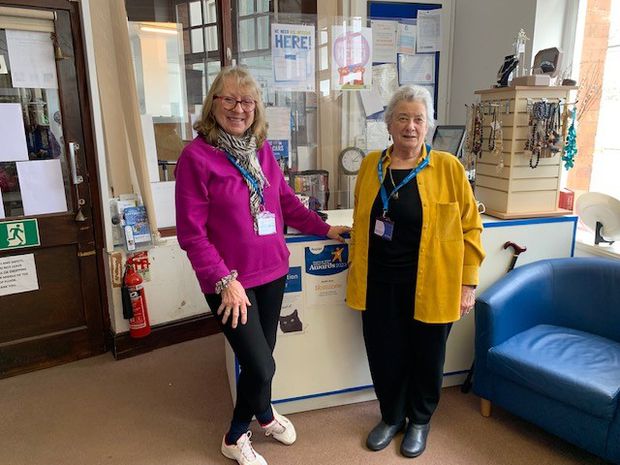 It's Volunteers Week 2023, running from the 1st ofJune till the 7th of June. We will be spending this week celebrating and talking all things volunteering, as we wouldn't be able to do what we do without them.
There are so many ways that our volunteers support us, and we are so excited to share some of their stories with you. Not only this, but we want to take this opportunity to also give them a big thanks for everything they do.
Did you know that we have three high street charity shops spread across the south of England? Located in Watford, Woburn Sands, and in Hayle (Cornwall). Irene and Maggie both help at our shop in Hayle and have very kindly answered some questions to give an idea of what a day at NAWT looks like for them.
Introduction…
Meet Irene! Irene joined NAWT as a Volunteer in the shop just six months after it was opened so she has been here serving for some 8/9 years.
Meet Maggie! Maggie joined NAWT as a Volunteer in the shop just before the Covid pandemic hit so has been with us for some 3 years.
What does a typical day look like?
Irene is very knowledgeable about jewellery and natural stones. She cleans and sterilises all the jewellery that comes into the shop and puts them into small packets/boxes which is much more presentable for sale. A lot of this is done at home, which she says gives her something to do when she is not in the shop. She also mans the till on the days she is at the shop, usually Monday and Tuesday afternoons.
Maggie likes to check the clothing on the rails is set nice and evenly and tidy the shop in general as well as serving at the till when required.
What is they like most about volunteering at NAWT?
Irene enjoys the social side, meeting other people and knowing that what she does benefits the cats and dogs at our NAWT Cornwall centre.
Just like Irene, Maggie also likes the social side of helping in the shop and meeting the different people that call in, including the locals and holidaymakers. There is always chat and banter going on! Maggie also finds it very rewarding, knowing the funds raised go towards supporting the NAWT.
What is their most memorable moment?
Irene's most memorable moment was when she was checking a bag of loose coins, which had been donated at the shop, and came across a gold half sovereign and a full sovereign! She thinks the donor mistook them for foreign coins!
Maggie cannot recall any specific memorable moments but says there is always something to make you laugh or smile with the customers.
Thank you to Irene and Maggie for taking the time to answer some questions and share your volunteering experience with us. We appreciate everything you do!
If you would be interested in getting involved, then make sure to view all our opportunities here.