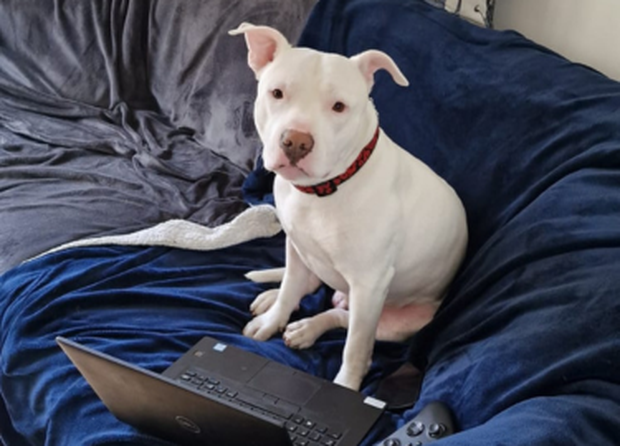 When Milo first arrived at our NAWT Bedfordshire centre back in January 2023, our hearts completely broke for him, after he was handed into us due to his owner passing away.
We set out on a mission to find Milo his happy ever after, and it didn't take long before he found himself in a new home. Unfortunately he started to show some behavioural problems, so sadly found himself back into our care.
The team worked closely with Milo to try and settle him back in, until he caught the eye of a couple who was looking for a new member of their household. They fell in love with Milo, and then in April he went off to his new forever home. Although they have been through some rough patches, they have powered through, and have now provided us with this wonderful update:
Now that it's been a few weeks, Shikha and I wanted to provide you with a bit of an update on how Milo has been getting on in his new home. It's been an exciting few weeks, definitely with a few rough patches here and there but we've seen huge improvements in Milo's behaviour and settling practically every day since we've had him.
He's calmed down a lot in recent days and is getting into a good routine. There's still some work to do to get him completely comfortable sleeping alone as his bed is still on the floor of our bedroom, but he's still not sleeping on our bed which we'll take as a little victory for now.
He's met a lot of dogs on walks and he's slowly learning to channel his energy into more polite introductions. He's even made a few friends! He's also had his first behavioural training class and got on well with some new tricks and skills. Yesterday we took him to a secure private dog walking field where he could run around off lead; safe to say he didn't pace himself at all and got very tired within 45 minutes!
I'm confident that especially over the next couple of months we'll continue to see him settle and build in confidence that he has a home that's not going anywhere now.
Please enjoy these pictures that show some of his recent adventures, his new day job as my resident assistant, and what I think he enjoys probably more than anything, a good old nap.
Thanks again for a quick and easy process of getting Milo to us!
Toby & Shikha
Are you looking to give a dog a new home, and give them a new beginning? You can view all of our dogs that we have up for rehoming on our website here.