NAWT Bedfordshire is now open!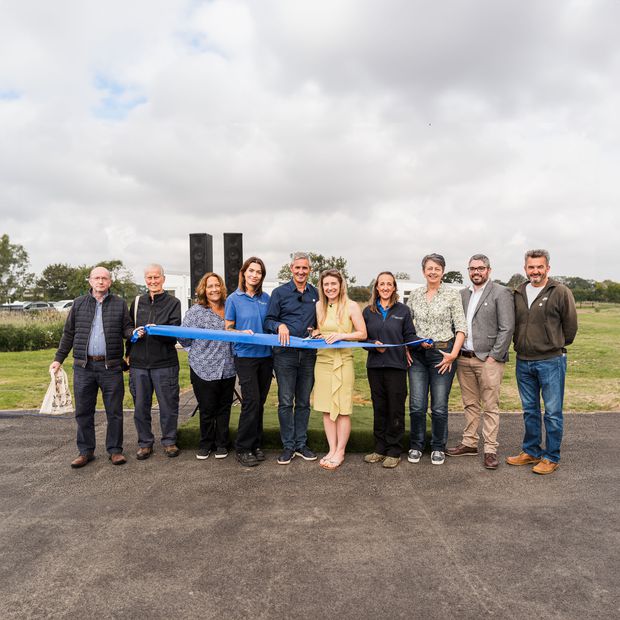 On Saturday the 2nd of September, we officially re-opened our NAWT Bedfordshire centre and finally open the doors to people and paws. Over the past year, we set out on a mission to improve the facilities as the buildings were crumbling around us, and thanks to your help we have successfully rebuilt a loving new centre.
Although the centre has been closed to the public for visiting, it has been business as usual thanks to the help of our foster carers, who gave our pets a safe place to stay, whilst they waited on a new home. Fast forward to today, and we will now be able to start housing our animals again, creating room to welcome more homeless and abandoned pets.
As the sun shone down on the newly refurbished buildings, special guest Libby Clegg MBE delightfully cut the ribbon, alongside our CEO Rob Mitchell, centre manager Carly Farr, fundraising officer Nicola Leach, and our wonderful trustees.
It was then time for a look around, as our VIP guests had the opportunity to see inside the new kennels and catteries for the first time. It was also a chance for anyone who has purchased a brick, to see their messages displayed, and take photos to share with friends and family.
There was a friendly and warm atmosphere, as everyone mingled and took time to chat about the centre. This was all whilst 'Simply Saxophones' played their music in the background, keeping our visitors entertained.
It was then time to pawty, as we invited all our supporters to join us for a fete in the field which included food, drink, a dog show, raffles, and even crazy golf! It turned out to be a great day in the sun full of smiles and laughter, and we hope everyone had a great time.
We would like to take this opportunity to thank everyone for their participation in making this happen. This includes everyone who has donated, all our volunteers and staff for their hard work, and our supporters who have been by our side helping in any way they can.
Our centre now has brand new kennels and catteries, new animal facilities including a vet room, laundry room, and grooming room, as well as a new car park and road. Although our centre is now open, there is still lots to do as we continue to work on finalising the finishing touches. As the dogs and cats in our care are now thriving in their new accommodation, we now turn our attention onto the next steps and more details will be revealed very soon.
Please keep your eyes peeled for more fundraising activities coming up, as we need your help to make sure the centre is the best it can be for pets in need.
See below a selection of wonderful photos, with special thanks to Squareshot Creative who took the time to come and take them for us. Mark, who runs the business, volunteered his services after we put out an appeal asking for help, and we can't thank him enough for his efforts. The photos are amazing!