Guest blog – Why fostering cat mum's and their kittens is so important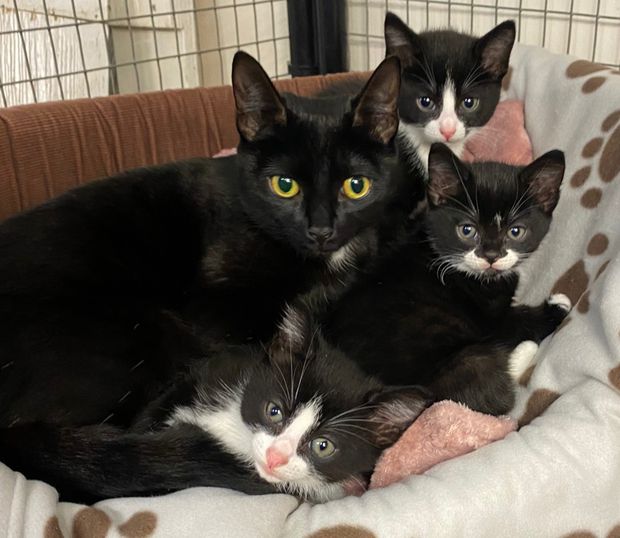 Here at the National Animal Welfare Trust, we need fosterers more than ever. Fostering our animals is important for many different reasons. One reason being that it keeps them in that home environment, instead of experiencing the stress of the kennels/catteries.

We have spoken to Christine Robinson (RVN ISFM Cert FN) who arranges for our cat mum's and their kittens to go out on foster at our NAWT Watford centre. She has very kindly conducted a question-and-answer style blog, to give some insight into why fostering is so important, and what to do if anyone would be interested in helping.
1. How long have you been running the cat mum and kitten fostering at the NAWT?
I have been running the cat and kitten fostering, on a voluntary basis, for a year now. After working at NAWT as a vet nurse, I saw how much it would help the animals and the charity.
2. Why is fostering so important to us as a charity?
It is very important to us as a charity to be able to help as many animals as possible, to become happy, sociable, and healthy pets. We can give more cats and kittens this chance by having them fostered into a home environment, which then increases the number of cats helped overall. There are only so many animals that can be accommodated at the NAWT at one time, therefore, fostering helps free up staff time so they can spend even more time with the animals on site.
3. What benefits are there to fostering the cats and kittens in our care?
There are numerous benefits:
Generally, the mum cats are more relaxed in a home environment, and this allows them the opportunity to feel safe and happy whilst looking after their kittens.
Both mum cats and kittens can become used to usual sounds of a home, for example hoovers, TVs, and doorbells etc.
This is invaluable for kitten socialisation which occurs in the first 8 weeks of life, especially for kittens born to semi feral mum cats who are nervous around humans.
The kittens learn to trust and play with humans and then usually go onto to make nice family pets, without fostering this is more difficult to achieve.
The cats and kittens are protected from diseases when fostered, which is good as kittens have immature immune systems.
With animals coming in from different places, unfortunately disease transmission is inevitable in an animal shelter.
The foster cats have the benefit of extended human contact and enjoy being in a home.
4. How easy is it to register as a fosterer?

We are always very interested in hearing from anyone who is keen on becoming a fosterer. It is an easy process to register your interest. You send an email into your local centre and then a foster form will be sent out to you, asking some questions about your home circumstances. We can then process the form to see if we think you are a good fit and will then get in touch with you.
We do need people to be spending time with the cats/kittens so ideally, we need people who are not in full time work, unless you work from home. We have got a great pack that we can send out that you can have a read through, that offers you lots of tips and tricks.
If everyone is happy to proceed, I usually call to have a chat and answer any questions. Once you are registered as a fosterer, we can look at placing some cats and kittens with you.
5. Roughly, how many kittens and cats do you put on foster each week?
This varies considerably depending on the time of year. Cats usually have kittens from Spring through to the Autumn, not usually in Winter. I arranged fostering for two mum cats with nine kittens at the end of April. It is likely that the numbers of cats/kittens will increase very soon, as Summertime usually means lots of kittens!
6. Why do volunteers like to foster and how does it make them feel?
Volunteers love to feel that they can help us and the cats, which they do enormously!
It is a great experience seeing the cats and kittens develop over the weeks and gain confidence, eventually to then go back to the centre and go off to nice homes.
Of course, playing with kittens is fun and a sleeping kitten on your lap is very relaxing and pleasurable.
Occasionally a cat or kitten may have a health problem and it is a very rewarding experience for fosterers to help with prescribed medication and see them get better.
A house with kittens is always popular and attracts visitors. This is great for the fosterer's social lives and the kittens!
Unsurprisingly, fosterers find the foster experience very rewarding.
For more information on fostering, please head over to the foster a pet page on our website here.