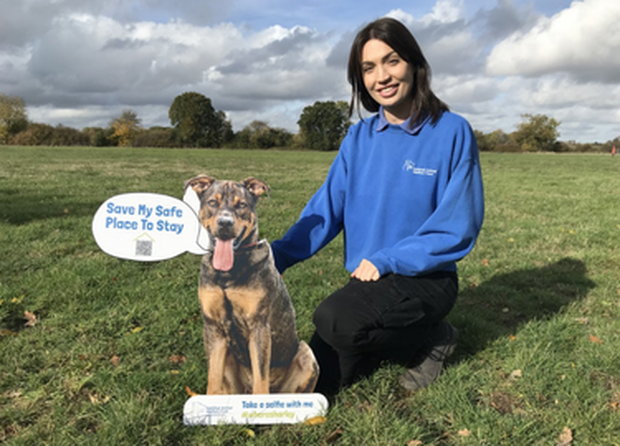 Can you find Harley? Be in with a chance of winning a VIP Experience! - #wheresharley
Homeless Rottweiler puppy, Harley, is the face of a new spot-the-dog competition raising awareness of the charity's Save our Safe Place to Stay building appeal campaign.
Next time you are out and about in the Bedfordshire and Milton Keynes area, make sure to keep your eyes peeled for a life-sized cut-out of Harley, who will be hiding in several different secret locations for the next 4 weeks.
Harley is one of many animals being helped by the NAWT Bedfordshire centre which now needs a lifeline of its own. The site, based in Apsley Guise, has been slowly falling apart over the years and without investment to replace it, it will reach a point where it is no longer able to help homeless pets.
If you find a Harley, make sure you take a selfie with him, upload your photo to social media using #wheresharley, tag us and the name of the location where you found him.
All entries will be entered into a draw, where one lucky winner will win a VIP experience for 4 people at Woburn Safari Park to get up close with the Giraffes! This also includes admission to the park to enjoy a Foot and Road Safari.
If you would like to help towards saving our centre, you can donate by scanning the QR code on Harley's cut-out. Alternatively, you can visit our Just Giving page here:
www.justgiving.com/campaign/savenawtbedfordshire

Centre manager Carley said,
"Harley came to us as a puppy after spending his early life living with an abusive owner. We provide love, support, and veterinary care while we search for Harley's new home.
We're hoping our where's Harley campaign will be a fun way of raising more awareness about our work and we hope will encourage people to lend support to our fundraising campaign.
We're also looking for a loving new home for Harley at the moment, so we're hoping this campaign will help him find one too."

ADDITIONAL T'S & C'S
Competition closes at midnight on 21st November where one winner is selected at random after the closing date.
You can only enter one selfie at each location, but the more Harley's you find, the more selfies you can take, increasing your chance of winning this fabulous prize.