A home destined for Greyhounds – Clover and Tia's story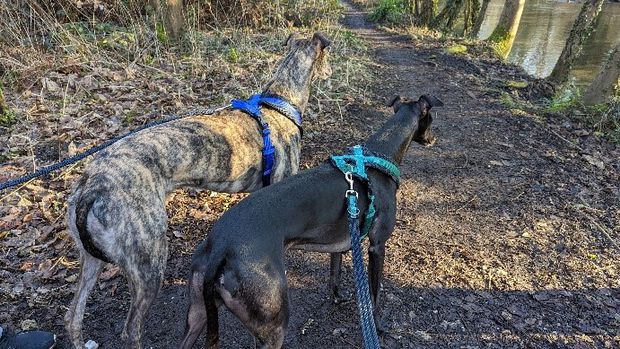 Here at NAWT we are proud to be a part of Adopt a Greyhound Month in April 2023, as we want to spread the love surrounding this breed.
We thought it was a perfect opportunity to share with you this heart-warming story, about a family from Hertfordshire, who was destined to rehome Clover and Tia.
Clover and Tia are two Greyhounds who came from our Watford centre. Clover arrived with us in January 2022, and sadly was in a bit of a bad way. She came in with a total of 6 injuries, and we couldn't wait to get her into a loving home. Luckily, Clover didn't spend too long with us, and was rehomed by a lovely family in February 2022.
Then in October 2022, Tia arrived at our centre. She was a real sweetheart but was very shy just like Clover was when she first arrived with us. We did notice that she benefitted from the company of other dogs, as whenever she went on a group walk, she would really come out of her shell. So, when Clover's family came back and ended up adopting Tia in January 2023, it seemed to be the perfect decision, as now the two girls are the best of friends!
Their wonderful family has been in touch with us, to give this update:
"We wanted to write to give you an update on how our 2 beautiful little Greyhounds Clover and Tia are getting on at home.
Clover has been with us just over a year now and is a much-loved member of the family. Our life together consists of lots of walks, meeting up with other dog friends, a warm house, comfy beds (yep, she has plenty to choose from) and lots of love and fuss. In fact, we all have loved having Clover so much that we felt we have just enough space in our house and hearts to adopt one more Greyhound
Tia joined us just over a month ago and is adapting brilliantly to home life and has also benefitted from having a friend to help come out of her shell. Whenever anyone comes home, she greets them with excitement, a wagging tail, and the occasional lick! Tia and Clover get on well and Tia has overcome her nervousness of being 'out in the world' and enjoys coming out for nice long walks and socialising with other dogs.
Thank you all for such a good process and experience adopting both Clover and Tia, and for letting them come to join our family… it feels like the family is now full!
The Collins family"
Thank you so much to the Collins family for the lovely update, and for providing such a loving home for these two gorgeous girls. We can clearly see how happy they are in their new home!
Have you got space in your home (and heart) for a Greyhound companion? You can see all our dogs available for rehoming on our website here: www.nawt.org.uk/rehoming/dogs/