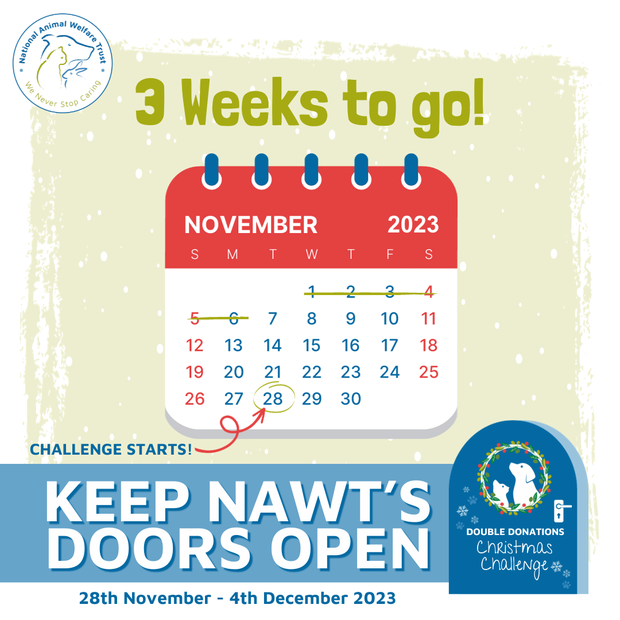 The countdown has begun, as we are now 3 weeks away from the start of our Double Donations campaign 2023.
From the 28th of November, until the 4th ofDecember, our Double Donations Christmas Challenge is back, thanks to our generous pledgers. With every donation you make, you can unlock the pledger pot to release an amount to MATCH yours.
We challenge you to match the pledge pot this Christmas, making donations go twice as far. We hope we can work together, to try and beat last year's total of 80k, helping to keep NAWT's doors open and to gift our animals a cosy Christmas.
Since the start of 2023, we have seen a rise in expenditure caused by the nationwide cost of living crisis. With 100+ pets coming into our care every month, our centres are running at near full capacity. To make what is already a demanding situation worse, many of the pets now need more complex vet treatments as they arrive with tooth decay, skin complaints, or parasites, all down to the lack of routine care. Frequently, our animals are also let down as potential adopters think twice and change their minds about taking on a new pet. This means pets are staying longer at NAWT centres or in our foster care. In turn, this stretches our resources further and further, both in terms of space and cost.
We have asked our supporters for supplies, and you delivered! We received generous donations of food, worming and flea treatments, blankets, and much more throughout the year. We held fetes, open days, competitions, and much more all with the help of our volunteers and supporters. Despite our best efforts and overwhelming public generosity, we still need to pay the bills to keep the doors of our centres open. No matter how carefully we manage usage, our total utilities bill has shot up from £76,000 to £202,000 per year, making a huge dent in our budget.
Hera is an example of how your support has helped an animal who was in need. This wonderful cat was found fending for herself, eating scraps off the streets, with nowhere to call home.
Frightened and alone, she was extremely underweight and malnourished, so you can imagine it came as a shock to us all when we came to realise, she was in fact pregnant.
The NAWT Watford team worked around the clock, ensuring that Hera was receiving the correct diet and was gaining weight ready for the arrival of her litter. Whilst it was upsetting to see Hera in this way, we knew how important it was to keep going, and to focus on a positive outcome.
After three weeks of Hera being in our care, she popped out not one, not two, but eight kittens! We were all so delighted by the news and couldn't be prouder of this little cat after all she had been through.
Two boys and six girls, all rightfully named after Greek gods and goddesses, following in their mother's footsteps.
However, Hera wasn't out of the woods yet, as not long after giving birth, she developed cat flu. We once again had to put on a brave face, as we were determined to not think of the worst. We made sure we gave this poorly little cat everything we could, so she could get that second chance in life.
Just as we hoped, Hera was a fighter, and survived to see another day. It is so rewarding for us as a team, when we work so hard towards saving these helpless animals, and now there was a happy ending on the horizon.
After her kittens were rehomed, it was now Hera's turn to meet her potential adopters. In November 2022 she found the perfect family and headed off to start her new journey.
Hera, now Martha, loves exploring her new garden. She also loves her people and sleeping wherever they are, often in funny poses – a true sign of feeling safe. All her 8 kittens are happily rehomed and growing in confidence. We heard that Star and Sky are just as loving as their mum and usually sleep together, in a big furry heap.
Although we would never turn our back on an animal that needs our help, saving animals like Hera comes at a cost. Along with the frequent vet checks, we ensured all nine cats were neutered, microchipped, and vaccinated before and after sending them onto their new lives.
With the rising costs of vet bills, your support is more important to us than ever.
Will you be joining us for our Double Donation campaign? Make sure to keep an eye on our website and socials, during the 28th of November until the 4th of December, to see how you can get involved.