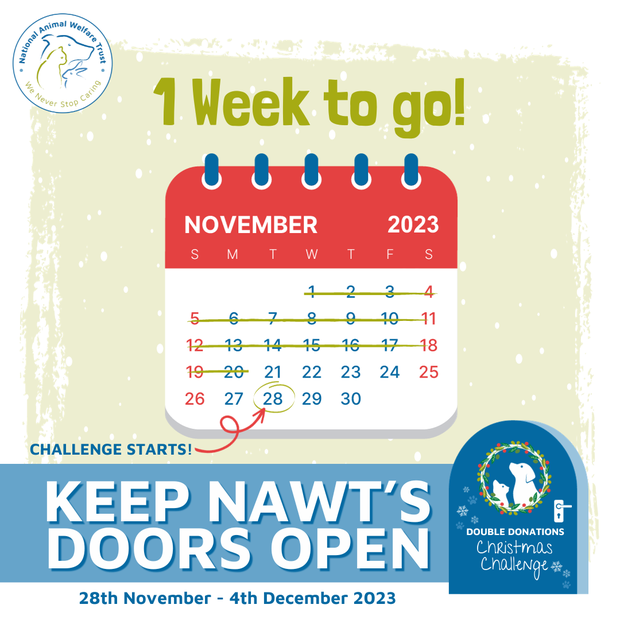 We are almost there, as we are now 1 week away from the start of our Double Donations campaign 2023.
From the 28th of November, until the 4th ofDecember, our Double Donations Christmas Challenge is back, thanks to our generous pledgers. With every donation you make, you can unlock the pledger pot to release an amount to MATCH yours.
We challenge you to match the pledge pot this Christmas, making donations go twice as far. We hope we can work together, to try and beat last year's total of 80k, helping to keep NAWT's doors open and to gift our animals a cosy Christmas.
Since the start of 2023, we have seen a rise in expenditure caused by the nationwide cost of living crisis. With 100+ pets coming into our care every month, our centres are running at near full capacity. To make what is already a demanding situation worse, many of the pets now need more complex vet treatments as they arrive with tooth decay, skin complaints, or parasites, all down to the lack of routine care. Frequently, our animals are also let down as potential adopters think twice and change their minds about taking on a new pet. This means pets are staying longer at NAWT centres or in our foster care. In turn, this stretches our resources further and further, both in terms of space and cost.
We have asked our supporters for supplies, and you delivered! We received generous donations of food, worming and flea treatments, blankets, and much more throughout the year. We held fetes, open days, competitions, and much more all with the help of our volunteers and supporters. Despite our best efforts and overwhelming public generosity, we still need to pay the bills to keep the doors of our centres open. No matter how carefully we manage usage, our total utilities bill has shot up from £76,000 to £202,000 per year, making a huge dent in our budget.
Meet Peter, who wants to tell you why your donations are so important to us.
"Hi there – I'm Peter…I'm a bit shy as I've been through some tough times. My new friends at NAWT say I need to tell my story so you can help other pets in need. If I look a bit scruffy it's because my fur is just growing back. You see, the vet had to shave it off before she could make me better."
"I was only 2 years old when I came to NAWT as a stray – truth is nobody wanted me. I was scared and my whole body was in pain, so I really didn't want anyone to touch me, even the nice ones. I didn't think I could trust them not to hurt me again! I was taken to see Katy, the vet at NAWT, and she said that I had been burned!"
Katy explained that Peter's burns were most likely caused by boiling water, although the full extent of his injuries were hard to see at first. A closer examination, under sedation, showed that Peter's injuries were at different stages of healing. He had been scalded repeatedly, at least 4-5 times. Poor Peter didn't just suffer a single unfortunate accident, it looked more like a pattern of abuse leaving burns all over his small body. His vet treatments continued for 6 weeks totalling a cost of £1000.
"Getting into the crate was scary but Josie was very patient with me and, of course, gave me my favourite treats. My patchy looks and sorry tale had won everybody's heart, and I could soon be seen carried around, standing up in my crate like a surfer or the captain of a ship.
"When I first came to NAWT there was lots of people and noise, and I couldn't really relax or settle down. I flinched at every sound, and had to go sniffing around everywhere, over and over again. I needed to find somewhere quiet where I could get used to people. That's why I moved in with my foster family, where I found my own space to recover and could make friends on my terms."
Fostering provides close monitoring and care in a home environ­ment. This is crucial for healing – both mentally and physically. Peter's burns healed surprisingly well, and his fur is growing back in most places. Sadly, his emotional trauma is harder to heal, as we still observe signs of post-traumatic stress disorder. Night­mares, 'freezing' and his jumpiness, are probably lifelong effects. But hopefully over time they will become part of what makes him such a wonderful and special little dog. We are incredibly proud to say that NAWT didn't just help Peter survive, we gave him a chance to thrive!
"Look at me now! I still jump at noises and sudden move­ments but a few weeks ago I jumped for joy instead. My foster family asked if they could become my forever fami­ly, and I said yes please! I have a new home where I know every smell and person and even have a new name - Pickle! My story ends well and NAWT has changed my life."
Will you be joining us for our Double Donation campaign? Make sure to keep an eye on our website and socials, during the 28th of November until the 4th of December, to see how you can get involved.