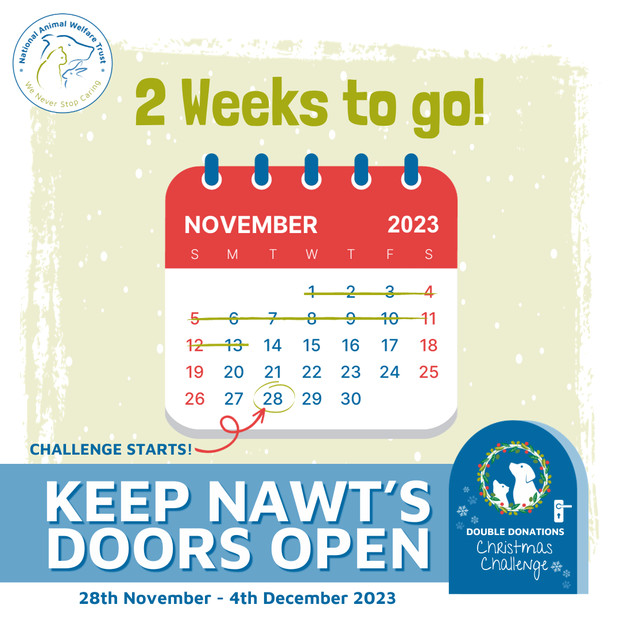 Time is ticking, as we are now 2 weeks away from the start of our Double Donations campaign 2023.
From the 28th of November, until the 4th ofDecember, our Double Donations Christmas Challenge is back, thanks to our generous pledgers. With every donation you make, you can unlock the pledger pot to release an amount to MATCH yours.
We challenge you to match the pledge pot this Christmas, making donations go twice as far. We hope we can work together, to try and beat last year's total of 80k, helping to keep NAWT's doors open and to gift our animals a cosy Christmas.
Since the start of 2023, we have seen a rise in expenditure caused by the nationwide cost of living crisis. With 100+ pets coming into our care every month, our centres are running at near full capacity. To make what is already a demanding situation worse, many of the pets now need more complex vet treatments as they arrive with tooth decay, skin complaints, or parasites, all down to the lack of routine care. Frequently, our animals are also let down as potential adopters think twice and change their minds about taking on a new pet. This means pets are staying longer at NAWT centres or in our foster care. In turn, this stretches our resources further and further, both in terms of space and cost.
We have asked our supporters for supplies, and you delivered! We received generous donations of food, worming and flea treatments, blankets, and much more throughout the year. We held fetes, open days, competitions, and much more all with the help of our volunteers and supporters. Despite our best efforts and overwhelming public generosity, we still need to pay the bills to keep the doors of our centres open. No matter how carefully we manage usage, our total utilities bill has shot up from £76,000 to £202,000 per year, making a huge dent in our budget.
We couldn't thank our supporters enough for their help when we found Nancy cold and alone left at the gates of our Bedfordshire centre. Nancy is yet another example, of how your donations have helped turn the life around of an animal in need.
Sweet-faced little Nancy patiently stayed put all night until our receptionist Laura found her on arriving to work. Thankfully, Nancy was wearing a coat, but underneath she was covered by infected sores, scabs and bald patches which are all signs of a bad case of mange.
Nancy was immediately put on antibiotics and medicated baths for her condition. Her healing unfortunately took a little longer, because of secondary infections from the open sores. Despite her ordeal, she is a good-natured dog who is quick to make friends with everybody she meets, including the vet.
We are delighted to announce that after 8 weeks of being in our care, she found her forever home. Recently, our centre fundraiser Nicola bumped into Nancy, happily walking on the lead in the village where they live. Nicola said: "She looked so healthy and happy, and certainly didn't look back".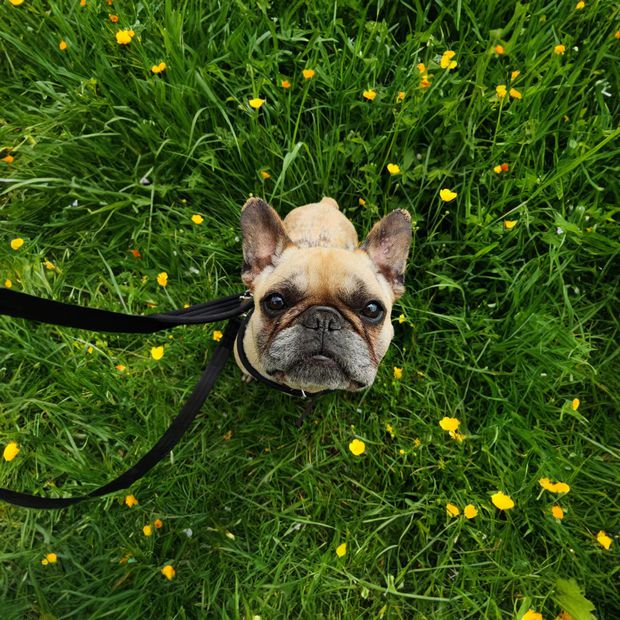 In a cost-of-living crisis, rising vet bills is just another tweak on people's financial thumbscrews and no one should have to choose between paying a bill or their pet's welfare. Unfortunately, we know this is a reality for many.
People are simply struggling to care for pets and keep them, and that makes our services more in demand than ever. With your help we can continue to give animals like Nancy a second chance and a brighter future for many years to come. We never stop caring.
Will you be joining us for our Double Donation campaign? Make sure to keep an eye on our website and socials, during the 28th of November until the 4th of December, to see how you can get involved.