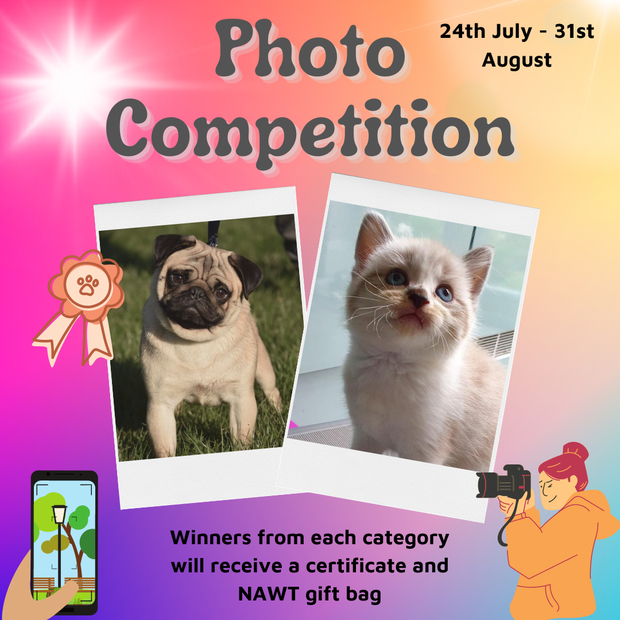 Online Photo Competition
To celebrate World Photo Day on 19th August, we are hosting a photo competition throughout the summer!
If you're looking for something to do in the school holidays, or if you've always thought of yourself as a photography master, enter our competition to showcase your skills! There are 21 different categories to choose from, and don't worry if you don't have a pet of your own at home - not every category is pet related.
The competition is open to all ages, to submit your entry please DONATE £2 HERE and then email your photograph to j.hantonne@nawt.org.uk and tell us:
Your name
What category you are entering
Pet's name
A short description of your photo
If you would like to enter more than one category, please donate £2 per entry
Entries must be submitted by 10pm on 31st August
Winners will shown on our Facebook and Instagram and will receive a certificate and NAWT gift bag
| CATEGORY | DESCRIPTION |
| --- | --- |
| Top dog | Best dog picture |
| Top cat | Best cat picture |
| Gorgeous Guineas | Best Guinea pig picture |
| Royal Rabbit | Best rabbit picture |
| Small but Mighty | Best picture of a small pet |
| Fluffiest Friend | Pet with the fluffiest fur |
| Golden Oldie | Best picture of a senior pet (7yrs+) |
| Young and Fun | Best picture of a young pet (0-12mths) |
| Summer Sunset | Best sunset picture (with or without pet) |
| Caught in the wild | Best wild animal picture |
| Nurture Nature | Best picture of nature (e.g. flowers, woodlands) |
| Make a splash | Best picture of an animal in water |
| Tongue-tastic | Best picture of a pet sticking their lounge out |
| Lookalike | Pet that looks most like their owner |
| Rescue Champion | Best picture of a rescue pet |
| Winning personality | Picture that best shows the pet's personality |
| Zoomies | Best picture that captures a pet's zoomies |
| Talented Tricks | Best picture of your pet showing their special talent or trick |
| Strongest Bond | Picture showing a strong bond between human and animal |
| Supporting NAWT | Best picture taken at NAWT centre, shop or event |
| Best in Show | Best pet photograph |