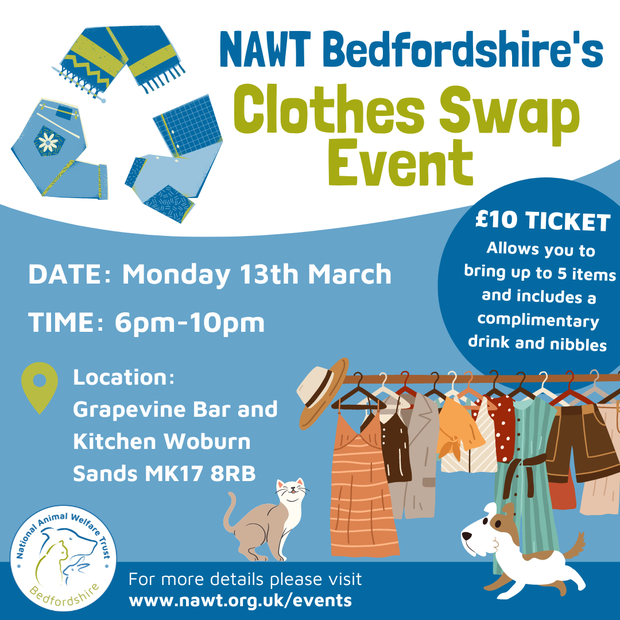 NAWT Bedfordshire's Clothes Swap Event
Did you know that 92 million metric tons of textile waste is generated around the world!
That is why you should come and join us on Monday 13th March at Grapevine Bar and Kitchen (MK17 8RB) from 6-10pm for NAWT Bedfordshire's Clothes Swap Event.
Swap till you drop and raise money for NAWT Bedfordshire.... and you'll also be helping the planet.
So if you have some high quality, ready to wear clothing that you don't use anymore, why not buy a ticket to our event and come along!
How it works:
You can buy a £10 ticket either from Grapevine Bar and Kitchen in Woburn Sands, NAWT Woburn Sands charity shop or at our NAWT Bedfordshire centre.
Please note if you would like to purchase a ticket from our Bedfordshire centre, you will have to call or email us prior to purchasing a ticket on 01908 584000 or beds.reception@nawt.org.uk
Your ticket will allow you to bring up to 5 items and includes a complimentary drink and nibbles
Please keep hold of your ticket as you will need to show it at the event.
Once you have your ticket you can either bring your items to swap on the night or alternatively you can contact g.sable@nawt.org.uk to organise bringing in your items before the event.
Then on the night of the event, you can pick up as many items of clothing as you bought with you.
There will also be other items both clothing and accessories that you can buy on the night.
As well as the Clothes Swap, we will also be selling raffle tickets for our Spring raffle and will have information about the charity, our centre and the rebuild including our new campaign Buy a Brick (which would make a great Mother's Day present for someone!).
We look forward to seeing you there!